A couple days ago I got up early and ran one of my favorite local loops, the Humphreys Trail, Weatherford Trail, Kachina Trail loop on the San Francisco Peaks. The loop is approximately 18 miles.
This loop follows 100% single track trails through tall fern stands, alpine fir, aspen and ponderosa pine forests and up and over saddles well above tree line. Elevation changes are extreme with lowest elevations being about 8,500 feet and highest elevations pushing 12,000 feet.
I was really antsy to run something like this after my run up Santa Fe Baldy last week (I guess it got me all inspired and motivated again).
The run started with the extremely steep Humphreys Trail that climbs from 9,000 ft. to a little over 11,600 ft. over 4 miles. This section is so tough to run that I end up power hiking sections. Good choice to hike some because I really wanted to see if I could break 4 hours (something I have not done yet) and knew it would be a bad idea to push to hard on this section. I really wanted to open it up on the Weatherford Trail, which is mostly downhill.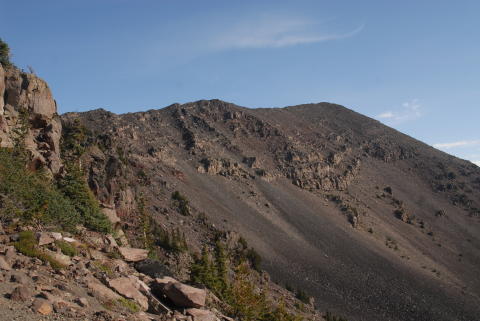 When I reached the saddle, where the Humphreys Trail meets the Weatherford, I felt really good so I power hiked up and over the little climb on the Weatherford and then really opened it up on the downhill switchbacks down the back side of Agassiz Peak. This was really fun, running fast above tree line with a perfectly warm sun bathing my body, alpine air going in and out of my lungs and viewing a spectacular sight of the Inner Basin below me.
After dropping below tree line, I ran through a nice fir forest to Doyle Saddle and then dropped into a mix of ponderosa, alpine fir and aspens again (standard beautiful peaks forest). I kept my fast pace (well...fast for me) going all the way down to the junction with the Kachina Trail. On the Weatherford Trail, I dropped from almost 12,000 feet to about 8,750 feet.
When I got onto the Kachina Trail I was making good time but feeling it big time from all the fast downhill running. Usually, I run the whole Kachina Trail without too much effort but today I had to power hike anything resembling a steep hill on it. To be expected, I guess. I was hoping to have a little more gas on this section and finish strong but that is what I get for such a quick pace earlier.
By the time I finished the Kachina Trail I had lost and gained a few hundred feet a few times over and finished very, very tired. I did meet my goal of breaking 4 hours and that was cool. I came in with a time of 3 hours and 48 minutes.
It was a great run, on a perfect weather day in a very inspiring setting. Man, I enjoyed that run. Just ask Susan. I spent the rest of the day spazzing out and bothering her with all the energy I got from the run. I was psyched.
If you are interested in learning more about the route I took...
Go
here
for the Humphreys Trail description.
Go
here
for the Weatherford Trail description.
Go
here
for the Kachina Trail description.